Do you want to try food from all over the world in a single night? From Austrian Kaiserschmarrn, Chinese Dumplings, Polish Pierogi, Spanish Tortilla de Patatas to Korean Bulgogi and many more. Nothing easier than that – the ESN International Dinner on the 13th of December makes it possible.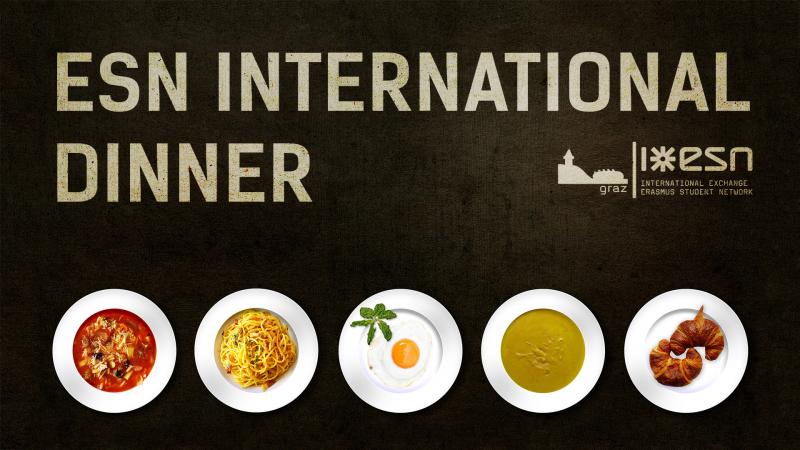 All you have to do is to sign up in the following form (https://goo.gl/forms/zCH9fIteSostKs3B3) until latest 7th of December, cook a traditional dish from your country and bring it to the event. If you want to present your dish in an even more authentic way you are warmly welcome to wear traditional clothes of your country.
We provide free soft drinks as well as plates, cutlery, cooling and heating opportunities and a great atmosphere. Alcoholic drinks as wine and beer are available for a small contribution towards expenses.
As a non-profit organisation we annually donate some money to charity organisations based in Graz. As part of the International Dinner you have the possibility to learn about the selected organisations and the charity check will be handed over.
You can either cook your own dish or you form a cooking group of maximum three people. But the more variety of dishes we have, the more fun the event will be :relaxed:. In case you are really bad at cooking or you have absolutely no time for cooking on this day you can also register for the event without cooking – but we would advise to sign up for the cooking option as it is a lot of fun and gives the possibility to present people your countries cuisine. We are looking forward to a fun and intercultural culinary night with you!
When: 13th of December 2018, 7:30 pm
Where:University of Technology, Rechbauerstraße 12, HS2 (ground floor)
Costs: 1 EUR for people who are cooking
5 EUR for people who don't cook (with ESNcard)
8 EUR for people who don't cook (without ESNcard)
Sign up: people who are cooking – online form https://goo.gl/forms/zCH9fIteSostKs3B3 (deadline 7th of December)
people who are NOT cooking – during our offices hours (from 23th of November until 7th of December) – limited number
PLEASE NOTE: When you take part in one of our events, you do so at your own risk! We do not take any responsibility! Make sure that you have an appropriate insurance!
Date:
13/12/2018 -

19:30

to

23:00