The days are getting longer, the sun is getting stronger!
Isn`t it a reason to celebrate? Yes it is! 
We are inviting you to the legendary ESN spring break party! Get your summer clothes and join us for an awesome night!
If you are not so much into dancing and you like beer, you can challenge your friends while playing some beer pong at the second floor!​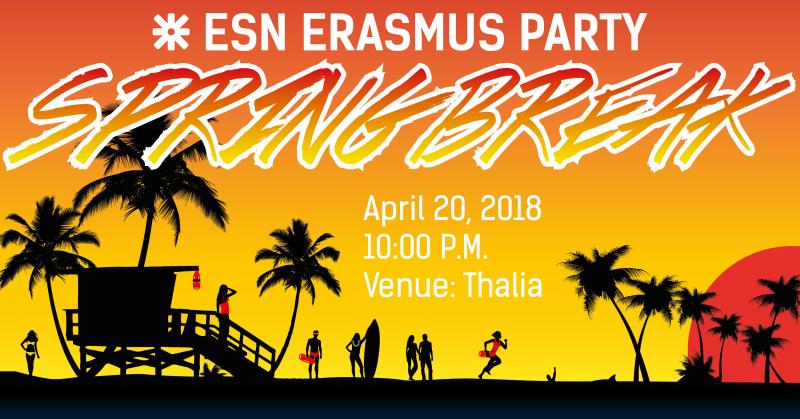 WHEN
Fr, 20th of April 2018, 10:00pm 
WHERE
Thalia, Opernring 5a
HAPPY HOUR till 12:00 a.m.
2,00 € - Tequila
2,90 € - Beer
ALL NIGHT SPECIAL
5,50 € - Sex on the Beach
ADMISSION
4 € with ESNcard BEFORE 12:00 a.m.
7 € without ESNcard and after 12:00 a.m.
FREE SHOT
...for the first 100 who come dressed in summer clothes.
Facebook link: http://fb.com/events/362407557499033/
The wardrobe will not be guarded. We are not responsible for any lost items.
PLEASE NOTE: When you take part in one of our events, you do so at your own risk! We do not take any responsibility! Make sure that you have an appropriate insurance!
Price:
4 € (7 € without ESNcard)