Join us for a day trip to one of the UNESCO World Heritage Sites in Austria: Dachstein, which is the highest mountain in Styria and Upper Austria and the famous town of Hallstatt.
We are going up the mountain by cable car in order to get to the spectacular viewing platform 5fingers, from which you have a wonderful view onto the Hallstättersee (Lake Hallstatt) and the region Salzkammergut. Afterwards, we are going to have a guided tour in English through the Giant Ice Cave. 
In the afternoon, we are going to visit the well-known town Hallstatt. It is so picturesque that a full-scale replica of the entire town was built in China. Parts of the popular K-drama series Endless Love were also filmed there. Hallstatt was able to develop because of its salt production which can be dated back to prehistoric times. In the late Bronze and early Iron Age, the predominant culture in central and western Europe was known as the Hallstatt culture.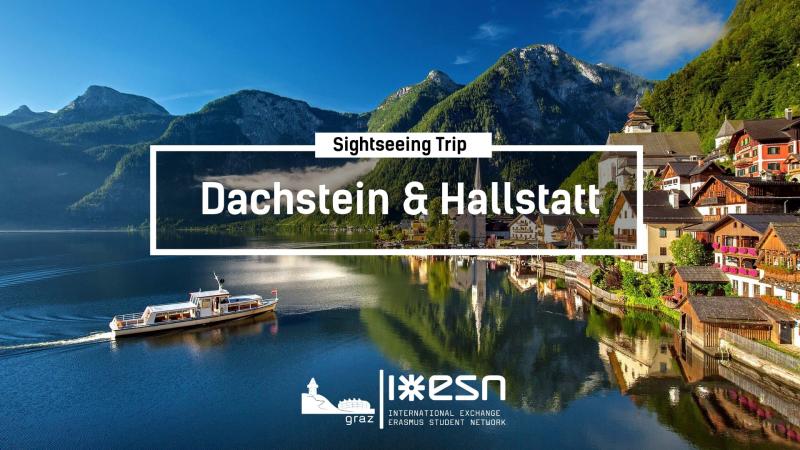 WHEN: 18 May 2019 (Sat), 7 a.m. to 9 p.m.
MEETING POINT: At 7 a.m. at Franz-Graf-Allee (next to the Opera house)
COSTS: €55 without ESNcard
€45 with ESNcard
€40 for Buddies with ESNcard
SIGN-UP: During office hours, from May 7 (Tue) - May 15 (Wed)
Important:
1. Please bring your confirmation sheet (from the sign-up).
2. Please make sure to wear good shoes (e.g. sports shoes/ sneakers. No flip-flops or the like!). Also bring warm clothes with you (temperature in the ice cave is around 0°C and the mountain is 2995 meter high). Because of safety reasons you are not allowed to join us on the trip if you are not properly dressed or equipped for the trip (shoes, warm clothes).
3. Bring an umbrella in case of rain.
4. Bring your own lunch with you, also snacks and drinks because we most likely won't have enough time to go to the restaurant on the mountain (however, you will have time to go to a restaurant/ Café in Hallstatt in the late afternoon).
5. Bring sun screen if it is sunny.
6. Don't forget your camera.
7. You will receive an e-mail on the evening before the event with the latest updates regarding the event.
Time Schedule
07:00 Meet-up (Franz-Graf-Allee, next to the Opera House). Be on time!
10:00 Arrival at the cable car station
10:00-16:00 Cable car ride up the mountain, visit of the Viewing Platform 5fingers and guided tour in English through the Giant Ice Cave
16:00 Trip to Hallstatt
18:00 Return to Graz
21:00 Arrival in Graz
The schedule might change depending on the weather conditions (Just the activities. The trip to Dachstein & Hallstatt will take place in any weather). If you have any further questions, feel free to contact us.
PS: A free audio guide app for your phone is available in several languages. For more information visit http://www.dachstein-salzkammergut.com/en/dachstein/service/audioguide-app/
PLEASE NOTE: When you take part in one of our events, you do so at your own risk and your own responsibility! We do not take any responsibility! Make sure that you have an appropriate insurance!
Date:
18/05/2019 -

07:00

to

21:00