AUTdoors with ESN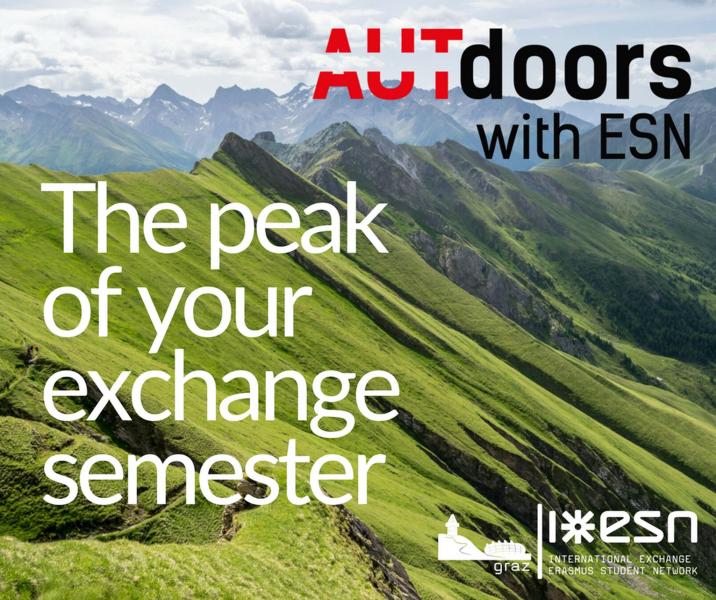 As the event name tries to tell you, we gonna have a weekend outdoors - were the AUT (Austria) should point out that it will be a very Austrian experience.
We organized a weekend in the Austrian Alps, to find peace, great new connections and get your adrenalin on. Before the exam times starts and your exchange experience comes to an end. 
For  this we choose the scenery area of Gesäuse (have a look yourself)  in north Styria more or less in the middle of Austria. It's a pictures national park.
The highlight of this weekend will be Sunday our action day. Where you can choose between some amazing activities.
Did you ever want to climb a rock wall?
You dreamt of floating down a white water river? 
You came to Austria to conquer a mountain top?
You like it a bite more chilled and you have in interest in culture?
We got you covered!!
fixed rope cures (AlpinPark)
Rafting
Mountaineering with a guide
Wasserlochklamm and Abbey Admont
What we have planned for you:
Arrival day: 
Arrival ~ 3pm
Fun orientation run
BBQ
Evening games
 Hiking day: 
Hiking day, three beautiful trails (different skill levels)
Chilled afternoon at the hut
Movie evening with Sound of Music
Evening games
 Action day: 
It's time to checkout
You can choose between

Mountaineering with a guide*
Rafting
fixed rope cures (AlpinPark)
Wasserlochklamm and Abbey Admont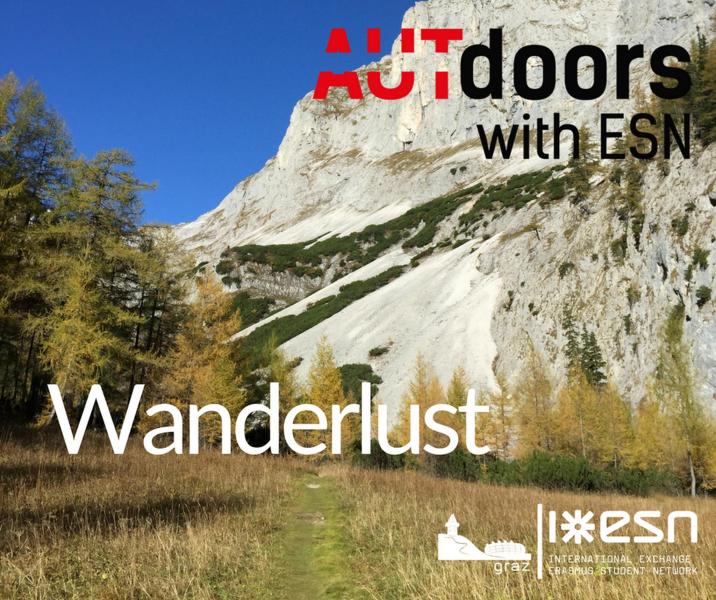 What's included:
Transportation to and from the event
Two nights in a mountain cabin
Two breakfasts, BBQ on Friday, Dinner on Saturday
Two healthy snack bags
A sleeping bag / travel sheet – necessary for the hut!!
Basic package on Sunday (Wasserlochklamm/Abbey Admont) 
What you need: - pack light!
Hiking boots / good shoes
Sun cream / Sunglasses
Cloth for 3 days for outdoors (mountains) 
Towel
Swim stuff (Rafting)
Rain jacket
Comfy cloth for the hut / (slippers)
Water bottle
Money, there is not ATM :P
Backpack if you have / or share one
Flashlight
Snacks
Board games if you have some
Rafting
Alpinpark

sport cloth
hiking boots (ankle-high)

Mountaineering*

sport cloth
hiking boots
climbing equipment (if you don't have one we help you organising one)
Upgrade prices:
Climbing (ApinPark):  60€
Because there is no way to tell the weather more than 2 weeks ahead, especially in the mountains. There is the chance that we have to cancel the event. At that point you will get your sleeping bag / travelsheet but we will have to keep 15€ to cover our cost and deposits! 
*For the mountaineering with a professional guide - you should visit our hiking trip to Bärenschützklamm (
https://esn.htu.tugraz.at/node/2184
) at the 6th of May. So that we know you are fit enough for the tour. Or some other sort of prof.
When: Friday, 8th of June till Sunday, 10th of June 2018
Where: 1 pm at Franz Graf Allee (next to the Opera house Graz)
Costs:   100€ Basic package - 15€ - are not refundable - including the sleepingbag  (120€ without ESNcard)
Sign up: 2nd of May
Activities Description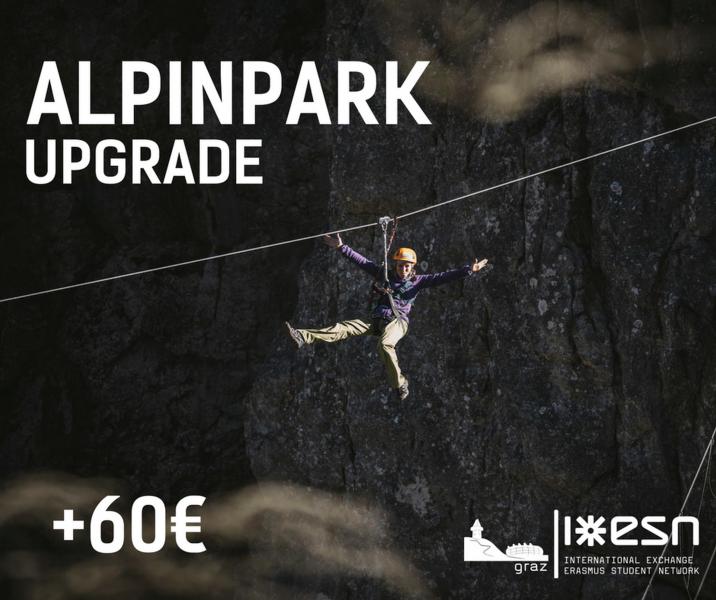 © AOS
You will feel your heartbeat getting faster when you stand at the beginning of our 150-meter flying fox. 200 meter underneath you flows the Johnsbach - you take a deep breath and off we go. The long flying fox is one of our highlights of the parcour, but you also have a lot of climbing action and amazing  suspension bridge before you.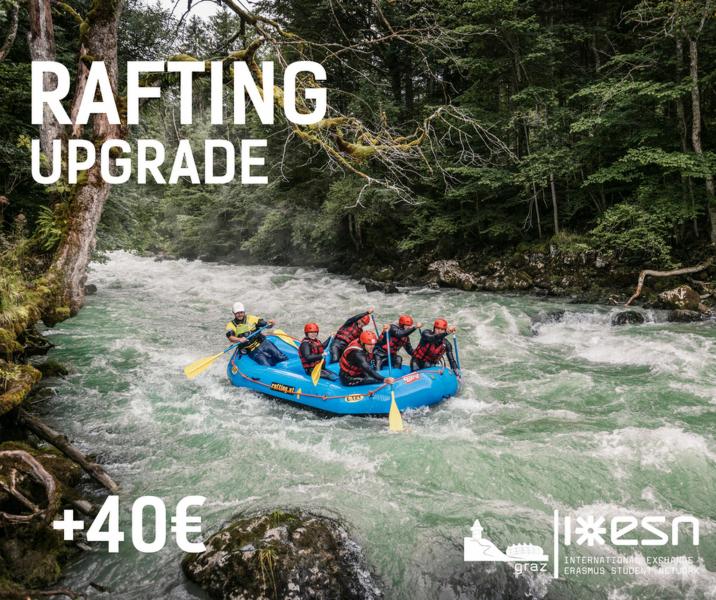 © AOS
The river Enns is an stunning mountain river which breaks through the "Gesäusegebirge" like a canyon. The river offers whitewater rafting from a severity of rapids class II to IV and is suitable for beginners as well as experienced rafters. 
After the warm-up, it goes further up the river to the famous natural monument "Gesäuse-Eingang" - the entrance into the "Gesäuse" mountain range - one of the last wild water rapids of Austria. Once the first rapids left behind, the river "Enns" moves alongside a marvellous mountain panorama. The last rapid is called "Rolling Stones" and will provide a challenging piece of whitewater for the finish!
Wasserlochklamm / Abby Admont

Basic package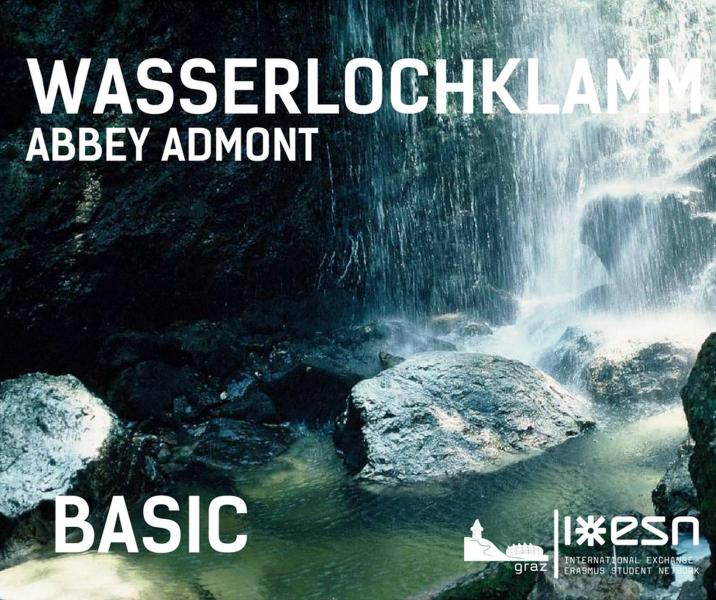 Narrow canyons, spectacular waterfalls, breathtaking sights and amazing views… the Wasserlochklamm (Waterhole Gorge) has everything you need for an exciting hiking tour …and much more.
The wooden trail, winds its way upwards past five spectacular waterfalls with a total drop height of 152 meters and a number of wooden bridges crossing the canyons. At the top of the gorge -- the two-tier Schleierfall -- the water plunges a dazzling 67 meters into the abyss. Once you have overcome the last obstacles, you will be rewarded with the stunning sight of the spring cave and an amazing view across the Salza Valley.
After this natural and landscape wonder, you have the chance to visit the largest monastery library in the world. 
The library of Admont Abbey is one of the largest all-embracing creations of the late European Baroque. Within it are represented various artistic genres (architecture, frescoes, sculptures, manuscripts and printed works) that come together to form an impressive whole. It is a repository of the knowledge gleaned down the centuries.
Something which is impossible to describe you have to see it.
PLEASE NOTE: When you take part in one of our events, you do so at your own risk! We do not take any responsibility! Make sure that you have an appropriate insurance!
Price:
100 € (120 € without ESNcard)